Team Information and Pictures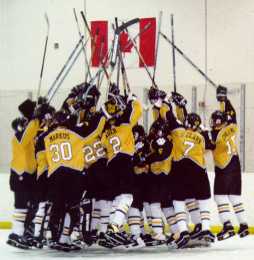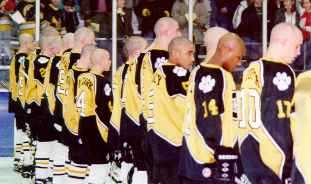 Click HERE to see the Heights Tigers Class of '97.

See how former head coach John Malloy is doing.

The Tigers' season ended on 2/15/97 with a 7-3 loss to St. Ignatius in the state tournament. A 4-3 game lost control in the third period when St. Ignatius was credited with a goal while they had a forward in Heights' goal crease. Tiger goaltender Andrew Markus argued the call and was given a ten-minute misconduct which he was required to serve. This left Heights without a goaltender. Forward Chuck Dancy had to tend the net for the final eight minutes of the game. He allowed two goals but made several fine saves for his first time between the pipes.

League All Star teams were anounced on 2/11/97 and three Heights Tigers have been selected. Senior forward Owen May, senior defenseman Brett Aber, and junior goaltender Andrew Markus will represent the Tigers as 1997 All Stars. Each player now has a special All Star graphic on his player profile to commemorate the occasion. Kirk Guenther, however, was snubbed in the Coach of the Year category.

Heights' Baron Cup hopes were dashed in a 5-2 loss to Trinity on 2/6/97. The Tigers took too many penalties, and converted on too few scoring opportunities. The game was tied at two after the second period but defensive lapses handed the game to the Trojans. Andrew Markus stopped 24 of 29 shots while Owen May and Marcus Dancy scored the only Tiger goals.
If you have any questions, comments, or suggestions, you can e-mail me at curtis_curve@geocities.com.
Game photos courtesy of Vector Photography. E-mail gabe@vec.com.
If you ask politely, GeoCities will give you a free homepage.